Kimberly-Clark, a world-wide innovator of a wide range of products from Kleenex facial tissues to Purple Nitrile surgical gloves and everything in between needed to represent the global reach of their products. In doing so, it was critical to visually bolster company morale, re-enforce the corporate message and show how the company touches the lives throughout the world.
The Roswell, GA campus has an Activities Center which houses multiple conference and presentation rooms as well as the always busy Cafe for employees to eat and enjoy the lake and walking trails on the property. With this much activity in this area, it was the perfect place to visually depict the overall company, helping all employees to understand that they are a part of one of the most influential companies in the world.
The challenge was to make sure that all brands, business units and company philosophies were represented accordingly. The hallway was sectioned off to focus on each core competency and each business unit, and each of these sections was transformed into a grid work that enabled flexibility throughout the entire display, yet ensured the brand and visual experience remained in-tact.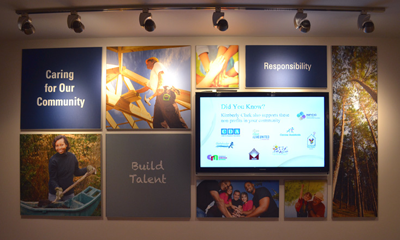 With this display being a ten-year commitment, we had to take into consideration how to keep the experience fresh over time. Lit podiums for actual products gives the ability to change periodically and increases the versatility of this display will keep it current and up-to-date for years to come.
Built in wall monitors provide areas that enable constant message changes and allows employees to know where the company will be represented at upcoming trade shows and other events. There was also a focus on the community aspect and sustainability that is a core message for Kimberly-Clark.
Showing employees, as well as visitors, the overall reach of the company is a great way to ensure that all understand how many lives are touched by their products and philosophies.